Anthony Gucciardi
StoryLeak.com
April 19, 2013
Early this morning, IB Times and Russia Today had 'confirmed' with Boston Police that the Boston Marathon suspect still evading police was indeed Sunil Tripathi. Now, in a 180 move, the suspect has changed to Dzhokar A. Tsarnaev based on a new AP report.
It seems the media cannot stick with a suspect, pinning the Russian native and follower of Islam as the new 'confirmed suspect' hours after claiming that Boston Police had detailed the missing Sunil Tripathi as the suspect to CBS news. It was originally reported early this morning by the International Business Times:
"Boston police on Friday revealed the names of two suspects in the Boston Marathon bombing, one of whom is an Indian origin person, Sunil Tripathi, reported CBS-affiliated television station WFSB."
Sunil Tripathi had gone missing last month and was reportedly 'depressed' and left a suicidal note behind before leaving his Philadelphia apartment. Aside from looking very similar to the suspect in the FBI photos, Sunil Tripathi's troubled history painted the very picture of a bomber. You can see the similarities in the photo below: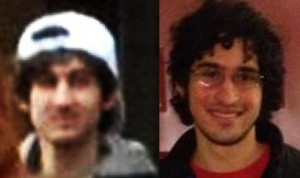 Dzhokar Tsarnaev — Russian Immigrant
Despite the similarities and convenient back story, AP is now reporting that Dzhokar Tsarnaev is indeed the correct suspect — despite supposed reports from Boston Police. The suspect is only 19 years of age, and ended up settling in Cambridge, Massachusetts after coming over from Chechnya.
Whether or not this will be the last suspect pinned by the media is yet to be seen, however the Independent is reporting that the second suspect was Dzhokar Tsarnaev's brother — who is now reported to be dead. The new report says:
"The missing suspect has been identified as 19-year-old Dzhokhar A Tsarnaev from Cambridge. National security officials have confirmed that the two suspects are brothers, and the New York Times is reporting that the suspect killed by police has been identified as Tamerlan Tsarnaev, 26."